Planning Projects
Yeerongpilly Transport Orientated Development – Master Plan Development
Sustainability Implementation Strategy
Energy rationalisation
Client : Brisbane City Council/ Qld Government. 
Ecolateral is a member of the successful joint venture team engaged by a State Government/BCC consortium to develop a Master Plan and SPRP for the Yeerongpilly Transport Orientated Development (TOD). Ecolateral has developed a complete environmental strategy that will allow the site to continuously improve on its emissions profile and reduce its consumption of water and energy while maintaining a high level of social and economic delivery.
---
Sekisui House Australia Ripley Valley Master Plan
Sustainability Implementation Strategy
Client : Sekisui House Australia.
Ecolateral has been appointed by Sekisui House Australia to develop a Sustainability Implementation Strategy, to ensure delivery of their vision for Ripley Valley as a sustainable urban community that is diverse, healthy and affordable. The incorporation of environmental principles from inception means that innovative solutions can be introduced in the planning stages and ensures sustainability is not a variation requiring retrofitting. 
---
ESD Analysis of Residential Typologies
Thermal Modelling and operational analysis for proposal comparison.
Client : QUT Centre for Subtropical Design
/ULDA.
The Centre for Subtropical Design, together with the Urban Land Development Authority, Brisbane City Council and the Queensland State Government, facilitated a design charrette in June 2009. The four participating design teams were challenged to develop a design for a transport orientated development (TOD) of medium density housing at the Fitzgibbon Urban Development Area.
Ecolateral was engaged to undertake a comprehensive analysis and provide comment on the developed typologies from a sustainability and sub-tropical climate perspective. The study considered design elements such as indoor environment, energy, water, acoustics and social aspects utilising building performance modeling to quantify the analysis.
---
Precinct ESD Design Guidelines, TradeCoast Central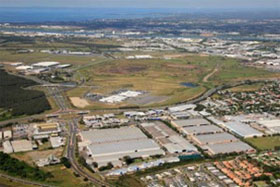 Development of sustainability Guidelines to deliver high environmental outcomes.
Client : Prime Developments Pty Ltd.
TradeCoast Central engaged Ecolateral to develop a precinct specific design code to ensure all buildings within the precinct are designed to deliver operational cost savings when compared to 'business-as-usual' design. This is encouraged through the incorporation of smart environmentally sustainable design measures that complement regulatory requirements and ensure best practice design.
The 'ESD Design Guidelines' address the adoption of initiatives that provide solutions for energy efficiency, water conservation, waste minimisation, enhanced and healthy environment and improved occupant experience.
The guidelines are updated as industry standards change and new technologies develop.