Ecolateral Thinking
What makes ECOLATERAL different
NEW GREEN STAR TOOL FOR EXISTING BUILDINGS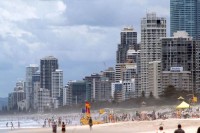 The Green Building Council of Australia has released a pilot version of its new Performance Tool. The objective of the tool  is to assess the performance of existing buildings and map them to the now well establish Green Star scale of recognition.
This tool has some fundamental differences from the traditional Green Star suite and some would argue, potentially delivers more measurable results for a building. Where the Design and As Built ratings depend on forecasts and assumptions around energy, occupancy patterns, operational profiles and the like, the performance tool uses actual figures.
To accommodate the significantly wider range of results the tool will generate, Green Star has extended its range of recognition. Under the new tool, a building can be awarded a rating from one to six stars which recognises performance ranging from minimum practice to world leadership.
The methodology for certification and subsequent performance improvements follows a logical process. Initially a building is assessed under nine categories over a 12 month period to establish its existing performance level, which will be subsequently used as the benchmark for improvement. A submission is prepared and a star rating awarded. To raise the performance level, informed changes are made to the building over time and audits at 12 and 24 months are undertaken to measure progress. On the third anniversary of the initial rating a reassessment can be completed to determine the impact of the improvements on the building star rating hopefully showing a marked improvement.
There is a well documented process involving a quantum of work to reach a level of accreditation. Notwithstanding the NABERS tool, Green Star Performance will provide a comprehensive, broad assessment of a buildings performance and benchmark it against a market recognised and increasingly valued third party accreditation in Green Star.
The fee for registration to GBCA is under $10k and the work load for the Green Star Accredited Professional can be shared by the Facility Manager to control costs. This rating will provide a comparative scale by which to assess the environmental impact of existing buildings. All buildings with the exception of single detached residences are eligible to be rated provided they meet the eligibility criteria.
Ecolateral has undertaken training in this tool and intend to be at the vanguard of its introduction in Queensland. What are your thoughts on GBCA's new tool and likely adoption by the industry? Please feel free to add comment.